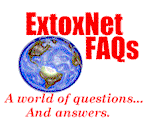 Welcome to the
EXTOXNET Frequently Asked
Questions (FAQs) Line...
If you have questions about toxicants in the environment and how they affect you, this is the place to be!
This web page is designed to answer some of the most frequently asked questions about exposure to toxicants in our environment. Extension toxicologists from the University of California at Davis, Cornell University, Oregon State University, University of Idaho, and Michigan State University are collaborating in this effort to address issues raised by the public.
---
If you are viewing this page, then we assume that your browser does not support frames and for your convenience most logos and graphics have been left off of this Page. If you think your browser can support frames and would like to view our pages using frames, please click here: EXTOXNET FAQs in Frames.

Otherwise, you can visit these Extoxnet FAQs sites:

Site Map - How to use Extoxnet FAQ's
Adverse Health Risks
Diet and Cancer
Food Safety Issues
Household Hazardous Waste
Indoor Air Pollution
Laws and Regulations
Pesticides
Safe Drinking Water
Sensitive Populations
Soil (gardening and chemcials)
---
Page prepared by B.T. Johnson. EXTOXNET FAQ Team
Copyright © 1997 U.C. Davis, Environmental Toxicology Department.
June 11, 1998.