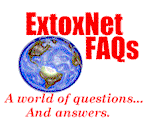 Pesticides: How They Affect You And The Environment.
---
The food Americans eat must be free from unsafe pesticide residues. Infants and children especially must be protected from the health threats posed by pesticide residues, because they are among the most vulnerable groups in our society.
—Carol M. Browner, EPA Administrator
With statements like this, it's easy to see that pesticides are a concern to everyone. So, what are pesticides, what do they do, where are they used, how are they used, and why are they on food? These are just a few of the questions that many people ask about pesticides. The following pages have been developed to help answer some of the most frequelntly asked questions that you may have about pesticides and how they affect us and the world we live in.
---
---
This Page prepared by B.T. Johnson, EXTOXNET FAQ Team. , January 1998