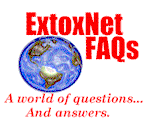 How to Use Extoxnet FAQs
This site was developed using frames, and therefore your browser should show the topics covered by our Extoxnet FAQs on the left of your screen. Just click on any of those topics to learn more about each one. If you would like to take a guided tour of our site, continue below.
This site has been designed to answer questions that you might have about toxicants and the environment, how toxicants might affect you, and how you might become aware of possible hazards around you. Just follow through the following questions to find more information.
1. My question is about:
2. I would rather browse through a site list.
3. Informational Links to other sites on the Internet
---
---
This Page prepared by B.T. Johnson, March 1998 UCD EXTOXNET FAQ Team.