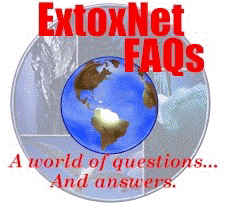 Welcome to the
EXTOXNET Frequently Asked
Questions (FAQs) Line...
If you have questions about toxicants in the environment and how they affect you, this is the place to be!
---
This web page is designed to answer some of the most frequently asked questions about exposure to toxicants in our environment. Extension toxicologists from the University of California at Davis, Cornell University, Oregon State University, University of Idaho, and Michigan State University are collaborating in this effort to address issues raised by the public.
---

Site Map - How to use Extoxnet FAQ's
---
---
If you would like to view this site without Frames, please see our Non-Frames site.
---

Page prepared and developed by B.T. Johnson, October 1997.
Copyright © 1997 [University of California at Davis,
Environmental Toxicology Department]. All rights reserved.
Extoxnet FAQs logos developed by B.T. Johnson, Copyright © 1998, UCD
All pages containing Extoxnet FAQs logos are to be used for informational and educational purposes only.
Revised: June 09, 1998.